Brainy memoir a stirring slice of life
June 4, 2006 2:04 am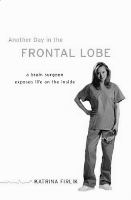 -
By CAROLYN HUCKABAY
"Grey's Anatomy" fans, take note: Truth is stranger, and also far more interesting, than fiction.
In other words, if you like medical dramas, you'll undoubtedly fall for neurosurgeon Katrina Firlik's fascinating memoir "Another Day in the Frontal Lobe," a book that is at once funny and poignant, informative and light-hearted, without the commercials.
Firlik, a rarity in the neurosurgery world based on her gender alone, keenly opens a door not many readers would even consider passing through: She lets us in on the brain, how it works, and the complicated life of the "part scientist, part mechanic" types who work on the brain for a living.
From the start, the author sets a trap for us we can't help but fall into: She turns the brain from a foreign concept that's over most people's heads into something interesting, relatable and even fun: "The brain is soft. Some of my colleagues compare it to toothpaste, but that's not quite right. It doesn't spread like toothpaste. It doesn't adhere to your fingers the way toothpaste does. Tofu--the soft variety, if you know tofu--may be a more accurate comparison."
Firlik takes us through her residency program, a seven-year stretch that has clearly defined who she is as a surgeon, and also fundamentally changed who she is as a person.
With clarity befitting a scholar matched with a comic's sharp wit, it's hard to believe that Firlik's calling is in medicine--that is, until she discloses stories about her more memorable patients. She's operated on a severely mentally challenged 7-year-old, told a new father he wouldn't live to see his child's fifth birthday, and extracted a parasite from a schizophrenic man's frontal lobe.
From these and myriad other day-to-day experiences, it's obvious that Firlik's brilliance as a surgeon has not trumped her vulnerability and compassion; she's the kind of doctor you'd want in your corner, and she obviously loves her job despite its disadvantages.
Life outside the hospital, if such a thing exists for neurosurgeons, provides a nice contrast within Firlik's memoir. Not only does she teach us about CT scans and "brain lifts," but she lets us in on her personal life, as well, waxing philosophical on Buddhism, the artwork of Andy Goldsworthy and the multifaceted relationship she has with her surgeon father, not to mention her surgeon husband.
A master of multitasking, Firlik seamlessly blends medical jargon with everyday language, utilizing an impressive vocabulary without ever sounding pretentious. She drops words like "somnolent" and "glioblastoma" and "perseverate" one minute, and cracks a joke, taken straight from a fellow surgeon's mouth, the next: "So what did this guy say when he went to the barber? 'Take a little off the top, but careful around the frontal lobe.'"
Utterly engaging, "Another Day in the Frontal Lobe" is the kind of book audiences will find themselves poring over, reading and rereading to soak in as much of Firlik's openly shared wisdom as possible.
On what she calls "nature-based belief," Firlik says: "How many people sell themselves short on life because they expect great things after death? Life is not a dress rehearsal. You have to enjoy it, make the most of it, while your neurons are still buzzing with live connections. It's amazing how holding a human brain can emphasize these points, at least for me."
Firlik's honest, forthright account of what it means to be a neurosurgeon is as refreshing as it is instructive, and at book's end, readers will feel as though they've come away with something truly valuable, something prime-time TV simply cannot produce: an education.
Carolyn Huckabay is a copy editor at The Free Lance-Star. Read her blog, "The Red Flag," at fredericksburg.com/blogs.
---
Another Day in the Frontal Lobe: A Brain Surgeon Exposes Life on the Inside

By Katrina Firlik

(Random House, 288 pages, $24.95)
---
Copyright 2008 The Free Lance-Star Publishing Company.